Biography
Influences & Heroines..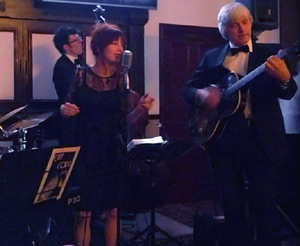 Q: Why a jazz singer?
A: "I have always, always loved singing and someone told me "you have a Jazz voice; that's what you should really be singing"
Q: How did you follow this up?
A: "I went to the local library and borrowed Billie Holiday and Louis Armstrong CDs. After a lot of listening, I fell in love with Jazz, especially with Billie Holiday and I've never looked back."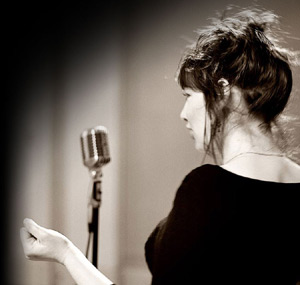 Q: What style of jazz do you sing?
A: "The Great American Songbook is called 'great' for good reason and it pays homage to the best songwriters of the Twentieth Century - Rodgers and Hart, The Gershwins, Harold Arlen, Hoagy Carmichael, Cole Porter, Johnny Mercer, Jerome Kern, Fats Waller, Dorothy Fields etc etc. The style, that I particularly love to sing these songs with is that of the small swing bands of the 1930s."
Q: Who are your influences?
A: "Billie Holiday remains my all time heroine and I just never tire of her records. I'm also a huge fan of Anita O'Day, Blossom Dearie, Julie London and many others."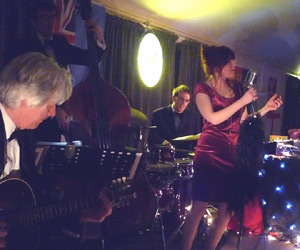 Q: Who have you/do you work with?
A: "Various great musicians and bands over the years. This has now settled to working with some of the best players in British Jazz including sixteen times British Jazz Awards winner Pianist Dave Newton and the much loved Tom Kincaid, Double Bass players Dave Green and Alec Dankworth, Drummers Steve Brown and Rod Brown (no relation) and Reedmen Alan Barnes and Trevor Whiting. Several of these players are also multiple British Jazz Awards winners and nominees)"
Q: What type of work do you do?
A: All sorts, I love the variation which includes Weddings, Parties, Festivals, Restaurants, Charity work, Dances, Theatres and Shows, Corporate Functions, even Boat Parties. That's the beauty of Jazz - it's so flexible. We can create the necessary mood appropriately, ranging from a subtle relaxing tone to an electric atmosphere"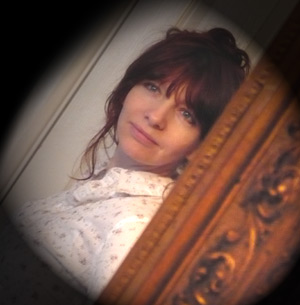 Q: What/Where are your favourite venues/types of gigs?
A: "I like each and every one because they are so different. Weddings can be intimate and charming or large and exciting and naturally there's the grandeur of singing in Stately Homes and Art Deco Ballrooms (like London's Park Lane Hotel). Restaurants can be very relaxing, working as background music and conversely, singing for dancers can be exhilarating, but there are many lovely people who open up their homes, villages and towns where we play for wonderful Parties or organised fund raising events. We also perform at 'picnic suppers', where the community hires the village hall or perhaps in the summer, the grounds of the local manor - we are hired and the audience bring their picnics and dancing shoes..."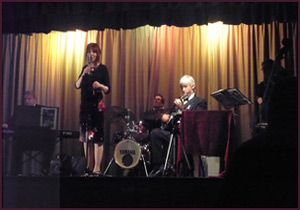 Q: Since you began singing jazz, how has your interest in the era developed?
A: "I love to show the relevance of Jazz today - it is estimated that about 300,000 'popular' songs were copyrighted between 1910 and 1950 so there's pretty much a song for everything! I really enjoy delving into the rich history behind the era, its songs and composers. As well as the classic standards, there are also some beautiful songs that are less well known and I think that it's important to pursue the salvage of these rare tunes as some are almost lost to history. My repertoire has really been built up over the years with songs that I hear, fall in love with and just have to learn. There have also been songs that I have learnt as requests and have kept on singing afterwards. I also try to find the verses as they are important introductions to the songs."
Q: Where can we see you?
A: Although we have a lot of private work, we also have bookings with Restaurants, local Councils, Theatres etc. In addition, some of the Dances are open to all (non-dancers too) and tend to feature the larger band. Check the
Dates
page for the latest information, or better still
Subscribe
and upcoming performances will be e-mailed directly to you.