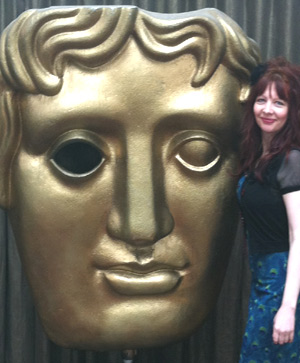 High quality, professional vocal jazz in a range of options to suit the occasion and the venue
Either swinging with her Quintet or singing ballads from the Great American Songbook with her Trio, Cate Cody is a very popular and succesful performer at Weddings, Parties, Restaurants, Jazz Festivals and Corporate Functions.
Highlights include performing at the BAFTA TV Awards, touring with the American Songbook Show, singing for the Spencer family at the Althorp Estate, sell-out concerts at jazz festivals and dance events and popular self-devised themed concerts at The Roses Theatre, Tewkesbury.
Ideally located for events in Gloucestershire, Worcestershire, Herefordshire, Oxfordshire, Warwickshire and Wiltshire, and often seen in London, Birmingham, Bristol and Manchester, Cate and her talented musicians will travel almost anywhere.
Three options...
'The Cate Cody Trio'
Voice, Piano and Double Bass. Sophisticated and compact - ideal with limited space and very suitable for restaurants or background entertainment at receptions and parties.
---
'The Cate Cody Quartet'
Add either Drums or Clarinet/Saxophone to the Trio for our stylish Quartet. Drums are a must for dancing if you have the space or Clarinet/Saxophone adds melodic decoration for a compact quartet.
---
'The Cate Cody Quintet'
Reminiscent of the small swing combos formed in the 1930s, this line-up features Voice, Piano, Double Bass, Drums and Clarinet/Saxophone. Dancing is positively encouraged, making the Quintet perfect entertainment for sophisticated guests of any age.
---
Jazz for Weddings and Civil Partnerships
We are experienced performers at weddings of all shapes and sizes with many delighted clients. Please view our dedicated wedding jazz page for more information.
Restaurants and Hotels
Cate sings regularly for diners all over the Cotswolds and surrounding areas. Typically singing with piano and double bass she is a frequent performer at The Daffodil. Other venues include Fishmore Hall, Ludlow, The Montpellier Chapter in Cheltenham; The Chester House Hotel, Bourton-on-the-Water; Cotswold House Hotel in Chipping Campden and The Greenway at Shurdington
Corporate Entertainment
Cate and her talented musicians are experienced corporate performers who will bring the sophistication and fun of the 20s and 30s to your event. Past clients include Center Parcs, The John Lewis Partnership, The Financial Times, The Spencer Family, Allegra Strategies, Microsoft........
Swing Dance - Lindy Hop and Balboa
Jazz is first and foremost dance music! Over the last few years, Cate has developed a passion for Lindy Hop, the authentic swing dance of the 1930s. She has been booked nine times by UK Lindy Hop champions Gary and Sara Boon at Gloster Jive and Swing Dance. Ross Jive and Swing are also repeat clients and Cate has performed at both public and private dance events elsewhere. She has also organised her own successful dances in Gloucestershire. Cate and the Band are available to other swing dance organisers both in the UK and abroad.
Ballroom Dance - Foxtrot, Quickstep and Waltz.
The range of tempos and rhythms in Cate's repertoire are also suitable for ballroom dances such as Foxtrot, Quickstep and Waltz and the band have a selection of Rumba and Bossa Nova variations too. Clients have enjoyed dancing whatever their style and the dance floor is never empty at any function, party or wedding.
Other Events
Garden Parties, Anniversaries, Riverboat Shuffles, Classic Car Rallies, Black Tie Events, Steam Railway Galas, Fetes, Clubs, Village Hall Evenings, Grand Openings, Birthday Celebrations, Dinner Dances, Picnics, Charity Events and Valentine's, Summer, Christmas and New Year Festivities.........
Jazz Clubs and Jazz Festivals
Popular and experienced performers on the festival and club scene. Festivals and Clubs include Aarhus International Jazz Festival (Denmark), Whitley Bay, Hatton Garden Festival, Upton-on-Severn, Goring-on-Thames, Chipping Norton and Pershore.
If you are organising an event contact us to discuss your requirements.