Read feedback from clients & fans >>
What musicians have to say...
" Cate Cody has a unique way with a song. She sings the melody and lyrics with a beguiling simplicity that makes it sound like they are a secret she wants only you to know and she draws the listener in without resorting to tricks and affectations. In my book, that means that rather than shouting 'look at me', it's the song that comes first and that kind of respect is rare these days."
Dave Newton - Jazz Pianist of the Year
"Cate Cody is the best exponent of the 30's Jazz vocal style I have heard in many a year. Book her immediately!"
Julian Stringle - 2006 Clarinetist of the Year (BBC's Jazz Awards)
"Cate Cody is a vocalist of the highest standard: she prepares her performances well, and takes time to research unusual material from the twenties and thirties. This material is performed not as a pastiche, but in Cate's very original style. Her singing technique is excellent with very good diction. In all, the show is presented beautifully."
Keith Nichols - 2004 'Heritage Award' winner (BBC's Jazz Awards)
"Cate is a wonderful artist very much in the Billie Holiday mould. She is probably the most sensitive singer I have had the pleasure to work with displaying both musical maturity as well as a great respect for both her musicians and her audience. You will not be disappointed!"
Zoltan Sagi - clarinet/saxophonist & composer
"Unlike so many modern singers Cate really understands the old songs which she sings. She also has the ability to really 'put a song across' - that makes all the difference in performance. She looks wonderful and sings wonderfully well - what more could you want?' Martin Wheatley - vintage guitar/banjo player & band leader.

"I'm glad I came all the way to Longleat because you were such a lovely surprise! It would be a pleasure to work with you again"
Tomas Pedersen - String Bass

"Your performance this afternoon was absolutely exquisite. Was much moved by your technique, creativity and emotional maturity. Seems to me you have a winning formula!"
Paul Munnery - trombonist & band leader

"Hi Cate, thanks for the gig, I really loved the quality of your voice and phrasing. I look forward to working with you again"
Erika Lyons - String Bass

"I thought you sang beautifully and felt the whole evening went so well and the audience were so appreciative"
Mike Graver - Pianist

at the BAFTAs
Wedding at Dartmouth House - Sep 2015
We wanted to say thank you so much for the wonderful music you provided for the drinks reception at our wedding the other weekend. You guys were wonderful and it helped create the perfect atmosphere. It was exactly what we wanted and we had so many comments from our friends saying how great you were. You were also a pleasure to work with in the lead up. Thanks again, Matt and Hugh
Pershore Jazz Festival - Aug 2015
We were at the Pershore Jazz Festival, where we thought your performance was outstanding. We would love to hear if you are planning any public shows in this area for us and your growing group of fans. We bought a copy of your latest CD at Pershore, which is being played constantly. Look forward to further details. Best wishes, Bob.
The Daffodil - June 2015
We so enjoyed last Monday evening at The Daffodil, we were very impressed and thought you were all great. What talent! Thank you very much for entertaining us all. We loved it. Karen and Andy
Loved the gig and the evening in the daffodil. You were fab as always.
Charles and Jean
Wedding
Just a belated email to say thank you for playing at our wedding a couple of weeks back. The two sets were great - we really liked the contrast between the afternoon and evening sets and it set the evening off perfectly. Thanks again! Hollie
Tithe Barn - March 2015
What a treat you gave us last night. It was a joy to be in that wonderful venue with a lovely party atmosphere, listening to our favourite music so beautifully delivered by you and the band.
It was a fab evening - thank you! Xx
You were brilliant, and looked and sounded amazing. Xxx
You were great and so was the band, we enjoyed the evening. Looking forward to an autumn show. X
Such an amazing night last night - we're all still grinning ear to ear - it really was wonderful - fab again to see you live and a brilliant way of doing the event. Katharine
Private Party May 2015
You very much exceeded my expectations... We all had a wonderful time and thoroughly enjoyed listening to yours and Dave's beautiful sounds. There were plenty of compliments on the party day from many of our friends, who particularly enjoyed listening to you and indeed more compliments after the party.
Gig Review - Pershore Jazz Club 30th July 2014
Cate Cody - Vocals
Zoltan Sagi - Reeds
Dave Newton - Piano
John Day - Bass
Scott Hammond - Drums
What a night we had - definitely one to remember. The room was at near capacity to listen to and appreciate the talents of Cate and her well-selected quartet of musicians. Cate is influenced by Billie Holiday and the songs of the Great American Songbook and she sang with poise, sophistication and confidence. Watching her on stage you can see that she lives and feels the music that she delivers with such style. Dave Newton, a 10 times winner of the Best pianist at the British Jazz Awards showed us why he is a winner so often and there can be none finer for sure. John's energetic double bass playing and Scott's fine drumming created an excellent rhythm section. Accompanying Cate in the front line was Zoltan Sagi - a giant of a player.
It was thrilling to watch a group of musicians enjoy backing and performing with a vocalist who clearly loved singing to her audience.
Feedback from Fans and Clients
Surrey Swing Dance Society, Dec 2014
Thank you so much for bringing a new level of sophistication to our dance nights, you were all very well received
Rushton Hall Wedding, April 2013
Thank you for playing for us! All of our guests said such wonderful comments about your music. You were a big part of making our wedding day special and memorable. Thanks again,
Carys and Austin
BAFTA Wedding, April 2013
Cate, we wanted to thank you so much for performing at our wedding, you guys were really great. We had so much positive feedback from our friends and family on the music and it was down to you. When we get our photos back we will send some with you in for your folio. Thanks again
Debs and Mike
Lower Slaughter Wedding, April 2013
Hi Cate, A really huge thank you for performing at our wedding 3 weeks ago! You all did an amazing job and were just what we had hoped for. It was a really special day for us and everything we'd dreamed of. Many of our guests commented on your band and singing - you magically gauged things just right. Thank you so much and do pass on our thanks to the rest of the band - we have very fond memories of you all.
Kate
Cheltenham Wedding, Feb 2013
Dear Cate and the band, Just a short note to thank you for your performance and entertainment in Cheltenham on 23rd February 2013. You set the atmosphere just right and we've had lots of comments on the quality of your playing. Thank you also for being so flexible! Once again, thank you!
Megan and James
Cowley Manor Wedding September 2012
We just wanted to drop you a line to say thank you to yourself and the jazz cats for helping to make our wedding day so perfect. The music was a real hit with our guests and it really did give the party that touch of old school glamour we were looking for!
Tom and Emma
Saddleworth Wedding July 2012
We wanted to thank you for making it all the way up to Saddleworth to sing at out wedding. You were wonderful and made the evening fantastic. It was the best day of our lives and you really set the tone for a magical evening.
Natasha & Paul xxx
Sussex Wedding June 2012
Hi Cate, We both just wanted to say a huge thank you to you and your band for performing at our wedding yesterday. The music was really brilliant and was everything that we hoped it would be. Thank you!!!!!
Helen and Derek
American Songbook Shows Autumn 2011/Winter 2012
'What an absolutely perfect night! Thank you to everyone involved in the jazz night. We loved every minute of it. The tables were quite lovely. The marquee gorgeous, food wonderful, wine delight, but the performers! Out of this world - literally. We were transported to another age! Thank you.'
'A thoroughly enjoyable evening. There was a great atmosphere and Cate Cody was a wonderful performer with a highly professional band.'
'Excellent evening with Cate Cody. Her background knowledge of the music really added to the evening. The backing musicians were also very good.'
'Cate Cody has a lovely voice and it was a pleasure to see and hear a really professional musicians play live'
'A super evening - The group was, we thought, excellent - they "played" and sang in their own style and we thoroughly enjoyed it'
'Cate Cody was excellent and her band are great musicians. For the whole performance she held the audience spellbound with a good selection of music.'
'We have enjoyed a brilliant evening. Cate Cody and her band were excellent and her voice is lovely. The team at the village hall had worked hard to give a night club feel and served a tasty supper. It is a great idea to present such professional entertainment on our doorsteps. Three cheers for A GOOD NIGHT OUT and we can't wait for the next one.'
Arundel Wedding, Sept 2011
Hi Cate, we just wanted to email you to thank you for your amazing performance on Saturday! Everyone at the wedding (especially my mum) loved the music and said it was the best wedding they've ever been too! I've already recommended you and your band to my cousin who is helping to plan a wedding next year! Thank you again, it wouldn't have been as much of a success without you and your band!
Regards, Lim + Charlotte
Malmesbury Wedding, Sept 2011
Hi Cate, just to say thanks for playing at our wedding. We had lots of good feedback saying how much people liked the music, just the right mixture of laid back and fun! thanks again and best wishes, Sian and Alfonso
Private Birthday Party, Sept 2011
Hi Cate, Thanks to you and all your fellow musicians for a really great gig. Everybody was very complimentary about the music and your vocals. On a personal basis I really loved it and had a great birthday treat. So thank you for making it a special day for me and looking forward to hearing your new CD. Cheers, Larry x
Ross Jive & Swing Dance Aug 2011
"Brilliant night Cate, thanks to you and all the band." (Ger)
"Thanks for a great night at Bishopswood. You music is always good, but those fast tempo tunes with your excellent players (plus you of course) were just awesome. Mothers Son in Law was magic" (Graham Reynolds)
"WOW!!!! CATE CODY & THE SALTY DOGS, THANK YOU SO SO SO MUCH!!! You were Awesome last night, myself and everyone else danced our little legs off, your choice of music was superb, well done to you and the band!!!! Can't wait to see you at Ryan and Jenny weekend. love IZZY.XXXXX
Holdenby House Wedding July 2011
"I just wanted to send a huge thank you for your performances at our wedding, they really did bring the day to life and Simon and I will always remember our (hopless but fun) dances! Anyway, many thanks again for helping to make our day so special" (Clare)
Little Woolford Manor Fundraiser
Thank you so much for a wonderful concert. Our party and everyone we have spoken to today (including many people who have phoned us) had a great night. Your music was particularly commended and everyone wants to know when we are going to do it again! So watch this space. Please thank your musicians from us - very high quality music....Once again, we were undaunted by the weather. All were impressed that you kept going with such style. And we have made a record sum of money for our church. Thanks for all.
Private Party May 2011
Hi Cate, Just to reiterate how fabulous you are. Thank you so much for Saturday night, everyone has said how much they enjoyed your singing and the wonderfully relaxed professional mood you brought to the evening.
Fishmore Hall Apr 2011
Thoroughly enjoyable return to Fishmore Hall. Beautiful sound, look forward to
the next occasion!
You made a special evening truly memorable. Fantastic atmosphere. Look forward to
the next session...
American Songbook Shows Mar 2011
"I couldn't nominate a "favourite song" because I found it impossible to choose between such great standards, all beautifully sung: I'd choose one, then you'd sing another, so I'd change my mind, and so it went on...Thanks again for a great evening"

"by far the most enjoyable musical event we have attended in the Hall since we came to Longborough 15 years ago. One very much hopes that the Cate Cody Quartet is invited back to entertain us again"

"Great evening!"
"Brilliant - love all of it"
"Thank you for a wonderful evening"
Private Surprise Birthday Party, Cheltenham 19th Feb
'Brilliant! We had a wonderful evening, thank you. You added that final
touch that made the event perfect. Look forward to seeing you perform again'
'Wonderful atmosphere, lovely voice, should do this more often!
'Superb ambiance - wonderful range of music wholly appropriate to the
atmosphere of the evening - excellent idea'
'Thanks for a fantastic birthday treat. Lovely to hear my piano played beautifully.
We've all had a super evening'
'Thank you. You made a truly memorable evening'
'A stunning performance on Saturday night. I thoroughly
enjoyed the evening'
Nov 2010 - Swing Dance Birthday Party, Chandler's Ford
Hi Cate, I have just about recovered from my 4-day birthday-fest (I turned 60 on the 11th) and I somehow dragged my tired self along to Gary Tewkesbury's Hayling Hop last night. It was a bit of a reunion as many of last night's dancers were also present last Sunday and positive feedback was mostly focussed on the band. The warmth of your vocal style and the sheer danceability of your music were much talked about. I'm sure your winning formula stems from your personal understanding and enthusiasm for dancing as well as your love of the music. There was something for everyone from slow and slinky to fast Balboa (variety that is not always fothcoming from live bands).
Congratulations to you and all the band members. I hope we can come up with another event at the same venue some time in the future.
Best wishes, Steve
Nov 2010 - Private Party
'Just to let you know that you and your Salty Dogs won a lot of new fans last night - you were superb and made the evening. I thought you would like to know that we are being buried under thank you notes and everyone has commented on the wonderful music and the superb singer. Thank you and your 'boys' so much. It was just lovely and you all made the evening (even though it was far too good to be background) One day my children and grandchildren will boast that they actually saw Cate Cody perform live. We oldies are already boasting.
Jenny Steel
Oct/Nov 2010 - American Songbook Shows
'A wonderful and memorable evening, thank you. We look forward to playing our CD!'
'Love you! You've made me come alive again - ready to face winter!'
'Great, I will definitely buy a CD'
'All brilliant songs'
'Cate, you and the band make such FAB sound! Thanks'
'Wonderful evening, thank you'
'All the songs were superb'
'You sing everything we like!'
'Just wanted to say how much I enjoyed your performance last night together with your trio. It certainly livened up the village!'
'You have the most lovely voice and you and your band gave us all a treat last night.'
'We were very pleased with the turn out and enjoyed your performance, it was a very relaxed evening, we would like to see you and the band again.'

'What a geat show! I haven't heard a better live vocal performance for years and the musicians were superb. The snippets of history introducing each song were both fascinating and charming. It truly warms the heart to see performance of such a high standard brought to a rural village in Gloucestershire.'
Oct 2010 - Private Party
Dear Cate, Just a line to thank you for making my party sparkle like Waterford Crystal last weekend.... I have had wonderful reviews from guests, even my mother, who has had quite literally a change of tune! Once again, many, many thanks and I hope to come and listen to you again soon
Yvette
Oct 2010 - Private Party
Dear Cate and Dave, What a wonderful evening you gave us on Saturday - it was lovely and we really appreciated you both. Sorry Dave that we did not get the chance to say so in person but your playing was magic! And Cate we thought you sang beautifully giving us just the right mood for the evening. Yes add us to the list Cate - we hope to hear you again very soon. Kind regards and thanks from us both,
Ian and Stella
Sept 2010 - Ryan & Jenny Swing Dance Camp
"Cate.. ..the feedback has been overwhelming.. ..your performance at the weekend was 2nd to none - a perfect 10 from me and also from many other attendees. A great set, good balance of tempos incredible musicianship and some terrific new tunes along with some favourites. There were lot's a smiling faces and wet clothes, the whole room was bouncing. A real classic night... ..'Blues My Naughty Sweetie' - 11 out of 10!"
Gary & Sara, Gloster Jive & Swing Dance
The Oliver Cromwell Paddlewheeler, Gloucester Docks
"Thank you again for a great evening on 3rd July - everyone really loved it.
I'm sure you could tell how well the audience appreciated your performance -
none of our previous acts have earned an 'encore'!"
Richard and Judith, English Holiday Cruises Ltd
Cate, what a pleasure to find you again recently in Gloucester,
and in such impeccable form! As I remember from earlier times, you appear entirely relaxed and at ease with your surroundings and your musician(s). Best of luck with everything you do and please assure me that I'm on your mailing list!
Graham Botley
In The Mood For Love CD
"Wonderfully clear recording , I shall play it at a dinner party that I am giving on Saturday"
Apr/May 2010 - Everyman Theatre Shows
"A very relaxing set"
"Seductive, melty voice, very nice"
"Great Event"
"Wonderful"
"We would love to see you again.. ..Thursday was a great evening"
"Lovely music, great delivery, excellent trio"
"Really enjoyable"
"MY FAVOURITE DIVAS was an evening of nostalgia and immense charm.
Cate effortlessly sang us through the repertoires of Doris Day, Billie Holiday
and Ella Fitzgerald, placing each song into social/historical context.
The instrumental duo was most impressive... ..feedback has been very good indeed."
Paul Milton, Director of ReachOut
Apr 2010 - Wedding nr Stroud
Thanks Cate. You and the band were wonderful; so many of our guests said how fab the music was too! We're only sorry that we didn't actually get to appreciate that many of your songs in the end. Oh well - now we're on your mailing list, hopefully we can come and listen to you in a relaxed style in the future! .....Best wishes
Philippa & Bryan
Mar 2010 - Honey Bunch CD
Thank you for the smashing CD Honey Bunch. Nice and laid back!! It's nice to hear the verse to 'Believe It beloved'. I know its sold out but I would dearly love to purchase the Candy Lips CD.... all the best
Robert
Dec 2009 - Wedding at The Daffodil
Just wanted to drop you a note to say a massive thank you for playing so wonderfully at our wedding. All the guests commented on how beautiful you sounded and you really set the tone for the wedding. We wish you lots of love and luck for 2010.
Hannah and Ali Forbes
Dec 2009 - The Georgian Group, Fitzroy Square, London
We just wanted to say a big thank you for playing at our wedding. The music really set the tone for the whole reception and we had many comments from people about how much they enjoyed it. Thank you also for our first dance song - that was a real highlight for us. Please pass on the thanks to the other members of the band. Thank you
Jon and Steffi
Nov 2009 - Ryan & Jenny Dance Weekend, Tythe Barn, Bishop's Cleeve, Glos
I can only say that I nearly cried on Saturday evening, because I was so proud to be the host of such a great night - WE LOVE YOU CATE CODY!!
Gary Boon, Gloster Jive & Swing Dance, twice UK Lindy Hop dance champion.
Just had to say what a fabulous set you played for all the swing dancers at the Tythe Barn on Saturday! We could not stop dancing all night..
Graham
"I wholeheartedly agree that Cate Cody and her band were fabulous and she must be kidnapped for next year without fail"
Kevan
Nov 2009 - Manchester Town Hall Wedding
Hi Cate... Just to say that we have received tremendous feedback on our wedding event, especially the music and the dancing. Thank you so much for contributing to the success of our wedding day.
Janice and Nigel
Oct 2009 - Wedding
Thank you so much for making our wedding day so special. You were an absolute star and the band were brilliant. We will always remember our first dance! Thanks for being so cool.
James & Wendy
Sept 2009
Wow!.... ...very impressive. You really are a jazz singer! Just brilliant in fact. I particularly liked 'The way you look tonight', a long time favourite of mine.
Jim
Sept 2009 - Private Party, Ross-on-Wye
Dear Cate, We'd like to thank you, Mike, Norman and Steve for an absolutely marvellous evening. Thank you especially for reorganising your timings to fit in with the foodservice on the night, which made everything go more smoothly. Everyone has said that your music really made the occasion and it was certainly the icing on the cake for Peter and me. We had an unforgettably wonderful time. Thanks for making it so special.
Lee and Peter"
Sept 2009 - Bristol Mansion House Wedding
Dear Cate, Our thanks to you and your band for the most wonderful jazz. We all loved your beautiful voice and the wedding guests really enjoyed dancing. Kind Regards,
Judith
Aug 2009 - Pershore Jazz Festival
Really enjoyed it, you were great and the audience responded. You always have such good musicians which make it just perfect. Sitting down listening is good but dancing to your type of music just hits the spot. You did play some really hot danceable tunes on Sunday. Difficult to stay seated. You just get better!!
Graham Reynolds
Thank you Cate. It was a delight to see and hear you perform at the festival with so many of your fans and admirers in the audience. You have a few more now I am sure!
Graham Smith (festival organiser)
Aug 2009 - Village Concert - Linton, nr Ross-on-Wye
It was a pleasure to have you - I have had nothing but complements from all who attended. I look forward to seeing you soon...
Morton (concert organiser)
Jul 2009 - Wedding
Dear Cate, thank you for helping to make our wedding such a special day. You and your band created the atmosphere which was perfect. We are huge fans, thank you again & please add us to your mailing list.....
Lou and Graham
3rd May 2009 - Wedding Anniversary Party
Just a quick e-mail to say a big thank you for making our anniversary so special last night. We had a family lunch today and everyone said how impressed they were with you and the musicians, thank you & best wishes
Chris and Martin
26th Apr 2009 - BAFTA TV Awards 2009, London
The performance (at Royal Festival Hall) set the perfect mood for the event and
you were a pleasure to work with. Thanks again Cate,
Pete Reynolds, BAFTA
14th Mar 2009 - Private Party, Gloucester
It was great to be in your company on the 14th March in Quedgeley. You sang beautifully and your choice of songs were great. Hope to see you perform again soon.
Julie and Charlie
21st Feb 2009 - Private Party, Luton
Once again amazing! My feet have only just about recovered from all the dancing. No matter what the venue you always pull it out of the bag and have the audience eating out of your hands. You are a star and the band was fabulous. Lots of Love. Lindsay x
6th Dec 2008 - Dance/Concert, Bushley, nr Tewkesbury, Glos
Hi Cate... Thanks for a great night on Saturday, we really enjoyed your performance (and the dancers were obviously enthusiastic too!!) See you again soon we hope. Regards Angela and John
Hi Cate... I just wanted to thank you for a most enjoyable evening and I don't know how you memorized all those lyrics... Regards, Paul
Just wanted to drop you an email to let you know how much of a good time both myself and Nina had at your 'do' Saturday night. Was just the right number of dancers/non-dancers giving us all plenty of space to bust some big moves on the dance floor!
Your singing and the band were really excellent, some great swinging tunes in there - here's to the next one! John & Nina
15th Nov 2008 - Civil Partnership, Royal Society of Arts, London
Thank you to you and your crew for a fantastic night of jazz last night - both Greg and I thought you were amazing. Thank you also for the CD, it will act as a wonderful memory of the evening. Thanks again Matt
11th Nov 2008 - 'Jazz in the Bar', Rose's Theatre, Tewkesbury
Thanks once again, Cate. Our friends Pat and Brian, who are generally more keen on modern jazz loved it - a great success. The Billie Holiday fan was bowled over and said to tell you that particularly the last three bars of one song were pure Billie. Lovely..
Jenny Steel
Our first evening at any jazz function was a very memorable occasion at the Roses Theatre last night. We hope to come and listen again sometime so please put us on your e-mail list. Many thanks for some great music. Geoff & Joy Codd
17th Oct 2008 - Corporate Function, Park Lane Hotel, London
"We were all delighted by your performance (and deep voice). It was exactly what we were looking for. The whole band was fantastic and I would not hesitate to recommend you to any of my friends who organise events. I hope we will get the chance to work together again in the near future. Many thanks again for everything!" - Ludovic, Allegra Strategies
5th Oct 2008 - Private Party
"We are going to leave it in your hands - we are loathe to interfere as you did such an amazing job last time.... my only request is that you play 'Was I drunk?' I am so excited!!" - Lindsay (played for her wedding & now another booking)
12th July 2008 - Private Party
"Thank you so much for making the evening on Saturday. Your beautiful voice absolutely created just the ambience I wanted and so many people have commented on how fab you both were. Please pass my thanks on to Charlie as well.
Hope to see you again soon." - Jude
23rd May 2008 - Awaken Your Senses Festival
"Loved the music. Cate is a fabulous singer (and dancer)..."
~ S Ashley, Oxford
"Good atmosphere/great music" ~ J & W Craig
"As good as ever, a delight" ~ P& W Martin
"Lovely singer, lovely dancer! Very enjoyable" ~ Jo, Sue & Dave

"A really great evening, super atmosphere too!"
~ B&J Brandon, Bibury

"As time goes by...a wonderful relaxing evening, great singing and music. Thanks"
~ S & P Needham

"Fabulous voice...evening not long enough!" ~ J Tucker

"Brill" ~ L Thomas
31st March 2008 - The Daffodil
"Excellent music as usual Cate" ~ L Brittenden
"Great Jazz - Cate was fab" ~ L Goodall
"Great music, thanks Cate!" ~ K Bluck
...Mondays Jazz went really well with a full house listening to the sultry tones of
Cate Cody accompanied by Mike Graver on the piano.... from 'The Daffodil' blog
11th January 2008 - Private Party
"Thank you Cate and Band for a lovely evening. We always enjoy listening to you since hearing you at the Daffodil early last year. Great evening. I'm sure you will have made it memorable for Bob and Lesley" ~ K & Y Smith
"Thank you so much for the enjoyable time. The music - and singing - of course was fantastic" ~ R & I Hodgson
"You did us proud tonight, Many Thanks" ~ B & L Callow
27/11/07 - Aubergine, Tewkesbury Flood Recovery
Great way to spend the morning. This type of event is very well suited to this venue
- loved it! A & J Bailey, Corse, Gloucestershire
Fabulous, mellow, sonorous, sexy voice and great piano! Thanks a million!
T & L Farmer, Tewkesbury
Wonderful morning, a real pleasure, thank you. K Auld, Cheltenham
Thank-you for a lovely morning, a special birthday treat! J Berwick, Cheltenham
It's great meeting you in person and a privilege to be on the flood relief CD with you.
T & N Barnett, Tewkesbury
24/10/07 - Milton Ager
Dear Cate, Please let me know how I can order your album "Honey Bunch." It has your version of a song by my late uncle Milton Ager (Hard Hearted Hannah), and I am eager to get a copy for the family archive and look forward to hearing it (especially after reading a review on the internet). Laurence Rubenstein, Los Angeles
10/11/07 - Milton Ager
Dear Cate, The CDs arrived yesterday, and I really enjoy them. You have a marvelous voice and style, and your instrumentalists are excellent. Best of luck on your continued career growth. I hope you stick with the 20-30s niche -- you do it so well.
Laurence Rubenstein, Los Angeles
11/09/07 - Crown & Cushion, Chipping Norton
Dear Cate, We would just like to let you know how much we enjoyed listening to you and 'your boys' at The Crown and Cushion yesterday. It was our first time at Chipping Norton Jazz Day and you certainly started it off for us very well. We will look forward to seeing you again somewhere on the Jazz scene. Many thanks, Freda and Clive Williams.
31/03/07 - Bushley Swing Dance
"Bluesy and dreamy but also sassy and swingy"
"Hi Cate. Went well didn't it!! Your applause at the end was the biggest I have heard for some time. When is your next gig?"
Hi Cate, Just to say what a fantastic time we had yesterday. We really enjoyed it. It was great to dance to something a little bit different from our usual swing music, and it leant itself beautifully to Balboa dancing. We came back buzzing!!!! Anna and Tony
"Hey Cate! That was great tonight. Thank you so much.
The Malvern/Ledbury bunch (15 of us) really enjoyed it!"
12/12/06 - CD/Roses Theatre
'Hi Cate, I saw you at the Roses and bought one of your cd's and it has become one of my favourites. It would be great to see you again at the Roses how about suggesting they fit you in somewhere? ' A fan!
04/12/06 - Bishops Cleeve Swing Dance
Cate, Just a few lines to say well done at Bishop's Cleeve last night - a definite success, well sung & well played. I only have a smattering of early jazz so I'm no expert, but it had the ring authenticity to me. I thought it was a hit with us dancers, I enjoyed dancing to tunes that I hadn't heard before (or not often), the rhythm was nice for dancing & there was plenty of meat to get stuck into within each song...Looking forward to the next one! S. Brandon
04/12/06
Cate, Many congratulations. It was a wonderful evening and all my friends enjoyed it so much. There has been much talk of working out an opportunity to approach you for some celebration in the future. Fingers crossed.... J Steel
27/11/06 - CD
'Don't think I said anything to you about your CD. It's very good! I can dance around the kitchen with you now!' R Evans
24/09/06
'Neglected to tell you that I thoroughly enjoyed the gig yesterday, please keep me on your circulation list for at least the next 25 years.' G Botley
July 17, 2006 Whitley Bay Jazz Festival
. . I feel compelled to send you a line or two of fanmail. I would just like to say how much I enjoyed the whole festival and for me you were the star attraction. Yours is the finest jazz voice I can recall hearing live. You reminded me so much of Peggy Lee, even though the majority of songs you sang were earlier than hers. Andrew Liddle
TAP Launch
Dear Cate, Firstly, please accept my apologies for the delay in thanking you for your contribution to the TAP Launch. Everyone said they enjoyed the music very much and I hope you had a good time. Please pass on my thanks to the musicians as well. Thanks again Cate, and I hope we can work together again in the future. Best wishes Jo
21 July 2004 - Upton Jazz festival
Dear Cate, It was a pleasure to see you for the first time at Upton Jazz festival and bought your last copy of Candy Lips which you kindly signed to my wife Jackie. Also with me was my 88 years old mum who looks and acts 20 years younger and very much enjoyed your show. Please send details of other C.D's. M. Ash
August 2004 - Wedding
Cate, Just wanted to write and say what a fantastic day we had. You and the band were absolutely brilliant and we have had alot of people asking after you!!! It made it so memorable for us. I hope you enjoyed playing and had an enjoyable day. Many thanks for everything. Lindsay
8 September 2004 - Roses Theatre, Tewkesbury
Could you possibly sing "Stormy Weather" at the Roses, please? We are planning to come to hear you in the Bar. It is our 40th wedding anniversary and it is my husband's complete favourite. M. Cogbill
10 September 2004
Referring to the request for 'Stormy Weather'. Thank you Cate, that was super. Norman told Alan that in his opinion you had sung it perfectly. We would agree with this. M. Cogbill
11 September 2004 - Goring Jazz Festival
'You don't know me but I was privileged to be at your gig in Goring last night. I just want to say how much I enjoyed it and how stunning you were. Your feeling for the lyrics were so refreshing and your timing impeccable.''You have that magic of being able to project the mood of the thirties and forties so well and my friends and I were thoroughly impressed.' 'I must just say a word about your group. Your saxophonist is beyond praise and so versatile. Your bass player was immaculate. Words cannot express my admiration for your guitarist.' A. Seymour
5 October 2003 - Plymouth Jazz Club
Thoroughly enjoyed your excellent set at Plymouth Jazz club earlier in the year, won one CD in the raffle and bought the other! - which are now circulating amongst my daughter's friends in London. S.Brown
3 October 2003 - The Mermaid
In the current terminology, I thought you were brilliant and thoroughly enjoyed that evening in The Mermaid. Hope they've invited you again. P.Russell
21 September 2003
All 4 of us loved the concert. we thought you were all so talented...Neither myself nor my friend Lucie really like jazz so we were waiting with bated breath to hear you... but we were all entranced. We described it as "gentle jazz" The audience were also captivated they were not the usual twitchy jazz audience, apart from when they applauded they were motionless and very attentive. All the guys were so good, what an interesting mixture of instruments... M. Cogbill
19 September 2003 - Roses Theatre, Tewkesbury
That venue is first-class and the audience obviously enjoyed themselves. It was a great turn-out. Now they know you can fill the place, they will surely want you back! G Botley
I enjoyed every aspect - the line-up, the content and the novel presentation. It was a great idea to put the music into context with the narrative. A really enjoyable, exceptional evening - and I hope rewarding for you.
Review of "In the Mood For Love" CD in Just Jazz Magazine April 2009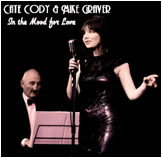 Tracks:
Nature Boy; I Cover The Waterfront; The Way You Look Tonight; It Had To Be You; Basin Street; As Time Goes By; Blues Skies; Lullaby of Birdland; Skylark; Nice Work If You Can Get It; Manhattan; Baltimore Oriole.
Personnel:
Cate Cody (vocal), Mike Graver (grand piano)
Cate, who always loved singing, moved into the jazz world after friends told her that she had a 'jazz voice'. She followed this up by listening to recordings by Billie Holiday and Louis Armstrong and singing Billie's version of Lover Man. Whilst Billie is her favourite, Cate also loves Peggy Lee, Mildred Bailey, Anita O'Day, Ella Fitzgerald, Nina Simone, Julie London, Doris Day and many others.
Cate sings songs from the 'Jazz Age' with her hot band, the Salty Dogs, but she also loves interpreting ballads from the American Songbook accompanied by solo piano. For this album, Cate is joined by Mike Graver on grand piano. Mike, who played by ear from a very young age, collects records by the jazz greats. Thus his influences include George Shearing, Art Tatum, Errol Garner, Dave Brubeck and Oscar Peterson. Mike plays solo, as an accompanist and with bands (including Tad Newton's Jazz Friends).
This album grew from the concept of a four-track demo, with a warm-up of other favourites. The selection of songs varies from the unfamiliar opening track, the haunting Nature Boy, I Cover The Waterfront and Baltimore Oriole, to standards like The Way You Look Tonight, Blue Skies and Manhattan. Also included are tunes more familiar as instrumentals - Clarence Williams' Basin Street Blues and George Shearing's Lullaby of Birdland. What they all have in common is Cate's love of the combination of their words and music and the joy that she and Mike have in performing them. This shows in the way Cate caresses each song with her lovely voice, ably abetted by Mike, who is in complete empathy. An album to relax and enjoy - anytime! I would love to hear Cate tearing it up with her Salty Dogs - by way of contrast!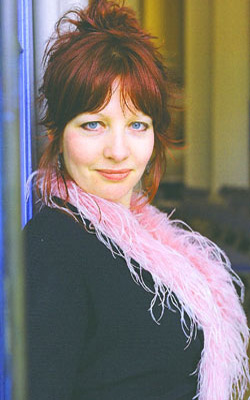 From Cotswold Life Magazine
"Cate Cody from Tewkesbury has been described as 'the jazz diva whose ball-gowns have revived the circulation of many a veteran jazz fan'. They, and her voice, have graced Blenheim Palace and Oxford University. The girl who started out by learning Billie Holiday's version of Loverman, cites The Greenway in Shurdington and the 'delightful' Daffodil in Cheltenham as two of her favourite places in which to perform. Billie is her all-time favourite: "her exquisite voice never fails to leave my heart pounding with its emotion and passion". Cate devised two successful shows for The Roses theatre at Tewkesbury; one was based on songs related to snippets of social history between 1914 and 1932; the other was all about love. She enjoys delving into the rich history behind the jazz era, its songs and composers, and says that with an estimated 300,000 popular songs copyrighted between 1910 and 1950, there's an amazing range of great music to choose from. You might catch Cate with her 'Salty Dogs' - a band of up to six players - at public events, but she is in huge demand for private functions, including weddings, picnic suppers and boating parties."
Written by Mark Child for Cotswold Life April 2007